Impact measurement for social enterprises and organisations
Get clarity and insights into your social change operations and outcomes
As a social enterprise ourselves, we are enthusiastic about supporting organisations to clearly see what is happening in their impact ecosystem.
We offer services for:
Co-creating your Logic Model
Visual design of your Theory of Change (in your brand style, using relevant visual icons or illustrations)
Research assistance: from question choice through to data collection methods (including fun and creative ones)
Survey design assistance
Automations to help make data gathering easier
Impact or evaluation report design
Design for communicating your impact – both aspirational and in review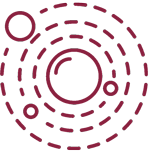 Logic Model, Indicators & Metrics, Theory of Change
See how your purpose influences your process, and how to measure performance.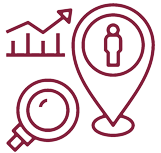 Choosing what to track & measure
Making sure we are measuring what matters to your Theory of Change, and what is possible for your organisation now.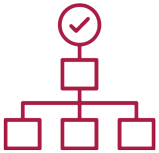 Methods of data collection
Choosing how to gather data, types of data, research methods and tools.
Ongoing impact tracking tools, methods, & automations
Processes and understanding to make ongoing impact data gathering easier.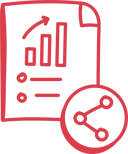 Sharing your impact
Including creating impact statements, preparation for accreditations & grants, program evaluation and impact reports.
Introducing our impact measurement resources & templates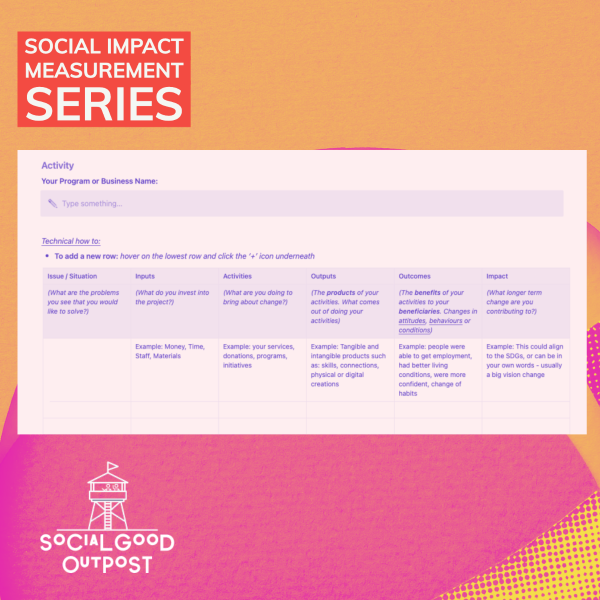 Free Logic Model Template
A simplified version of our first workbook module, the logic model template, is available as a Notion template. Recommended as a first step in impact measurement.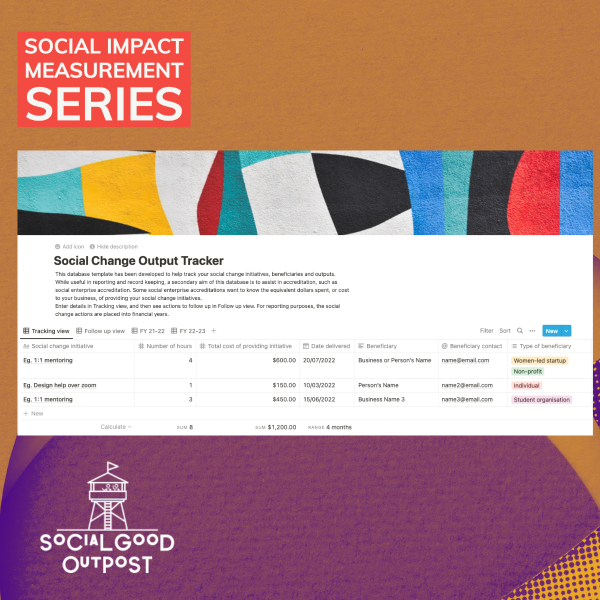 Social Change Output Tracker
Have you ever needed to express the cost or value of your social change initiatives?
Having an easy tool to record program statistics and output is the other side of the picture of tracking your outcomes.
Group workshops and 1:1 impact measurement strategy and support
In a nutshell: get clear on what you're measuring and tracking, why you are doing it, and how you will use it.
We help with understanding your social and environmental impact goals, and what is most important for your enterprise to measure and report on.
Once you have your impact story ready for sharing, we can help with designing impact reports, presentations, charts or copywriting.
Custom workshops on specific topics are available for your organisation – reach out to organise.
Upcoming events: Social Impact Measurement Workshop Series
Come along to a monthly series of hands-on workshops, led by Lara Stephenson of Social Good Outpost. This series provides time and space to dedicate to measuring your impact in a small group online.
Each session focuses on a different part of impact measurement, from defining your impact, through to creating your Logic Model, data collection and survey creation, and communicating your impact.
We have designed an interactive workbook that gives you a framework for impact measurement in achieveable, practical steps.
Come along and be supported, learn handy tips and tricks, and leave with clear next steps for your impact measurement process.
Find clarity in your social impact
Reach out for a chat, tools and assistance.