Measure your impact
at every stage,
from planning to communication, with our human-centered framework.
Clarify your processes, methods and outcomes for successful impact measurement of your initiatives.
Our impact & outcomes measurement support helps you wherever you are in your project or initiative's lifecycle.
Through providing recommended actions at each stage of your initiative, our impact framework helps you prepare for and measure both output and outcomes.
Using evidence-based resources, and human-centred methodologies, we support your organisation to make change and communicate it well.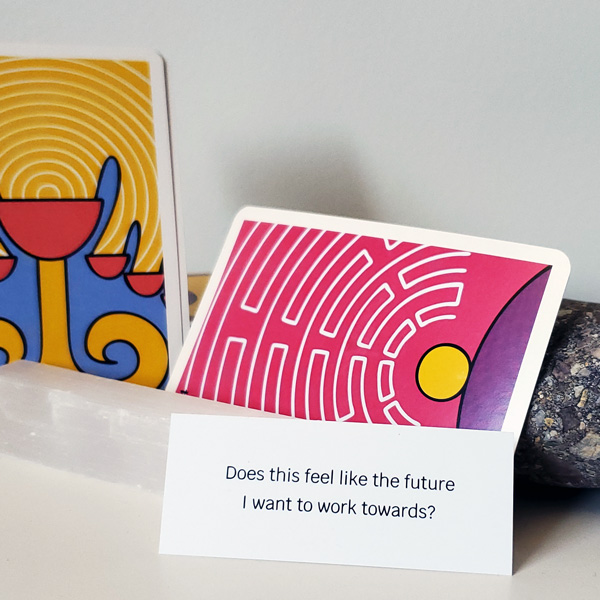 Create clear impact goals and express these in a Logic Model
Define measurable outcomes and outcome metrics
Formulate effective questions to gather data
Choose the best research methods for the phase or type of initiative you are in
Gather data through recommended tools
Interpret and analyse data
Evaluate your initiative
Propose a Theory of Change or develop one from evaluation data
Communicate your outcomes and your desired longer term impact
Make improvements to your initiative based on data and evidence
So you don't miss milestones and important data gathering points
Ensure that your initiative is effective, celebrating wins and focusing on areas for improvement
Understand your initiative's return on investment
Provide justification for further investment, priority shifts, etc.
Prioritise between competing project goals
Learn from best practice and consolidate what has been learned
Enable the most effective use of future funds
Understand gaps in your initiative, or opportunities in the world that are not being serviced
We can provide:
Quarterly impact data collection and analysis for your programs and initiatives
Training and capability development for impact measurement, monitoring and evaluation
Roadmaps and frameworks you can use to proactively develop meaningful impact measurement processes
Thinking partner and design partner support in impact measurement topics such as: creating your logic model or theory of change, creating research questions, research methods and tools, user / citizen research, assessment of your organisation's current state and recommendations, collaborative workshops, etc
Service provision of the impact measurement process
Find clarity and confidence with: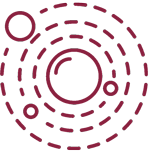 Logic Model, Indicators & Metrics, Theory of Change
See how your purpose influences your process, and how to measure performance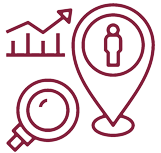 Choosing what to track & measure
Making sure we are measuring what matters to your Theory of Change, and what is possible for your organisation now.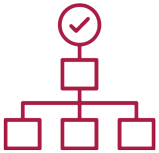 Methods of data collection
Choosing how to gather data, types of data, research methods and tools.
Ongoing impact tracking tools, methods, & automations
Processes and understanding to make ongoing impact data gathering easier.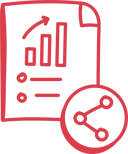 Sharing your impact
Including creating impact statements, preparation for accreditations & grants, program evaluation and impact reports.
Start right away, with our impact measurement resources and templates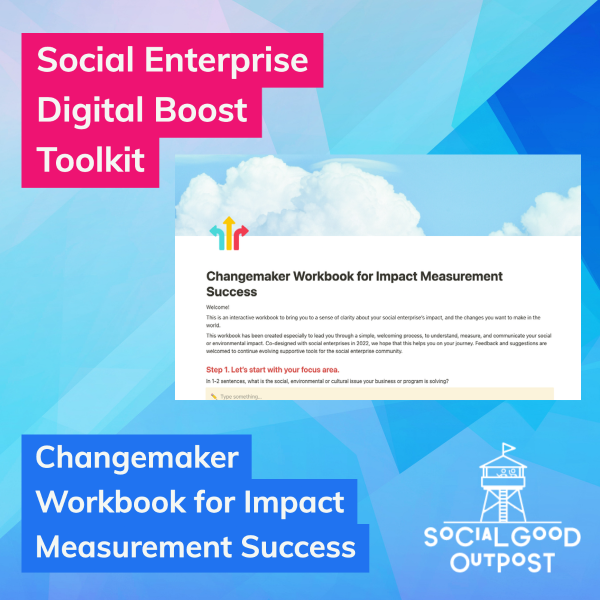 Changemaker Workbook for Impact Measurement Success
Co-designed with social enterprises across Australia over the latter half of 2022, this Changemaker Workbook for Impact Measurement is designed to hold your hand, and lead you through the process of starting to measure your social impact.

Buy on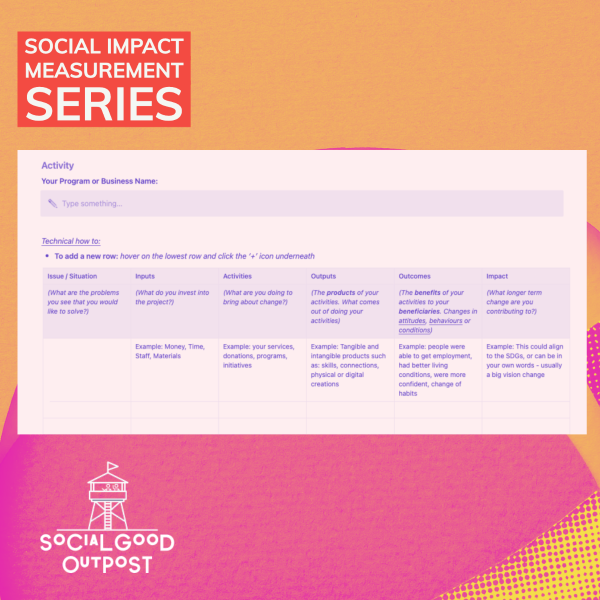 Free Logic Model Template
A simplified version of our first workbook module, the logic model template, is available as a Notion template. Recommended as a first step in impact measurement.

Buy on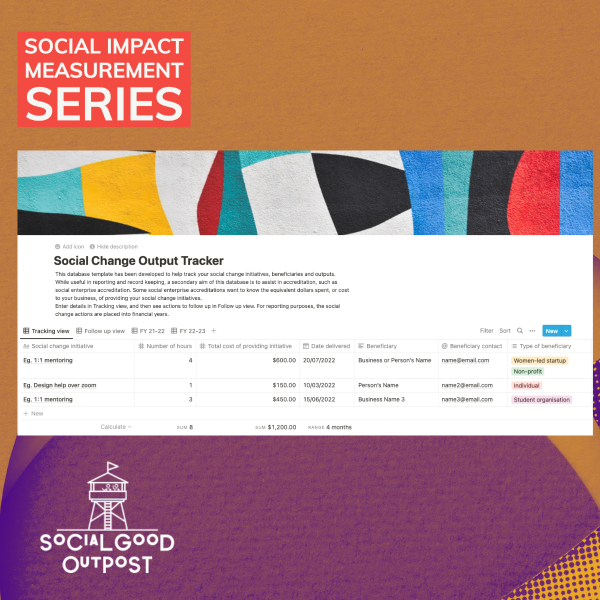 Social Change Output Tracker
Have you ever needed to express the cost or value of your social change initiatives? Having an easy tool to record program statistics and output is the other side of the picture of tracking your outcomes.

Buy on