Providing LGBTIQ focused health education, freely accessible to medical students and professionals
The third evolution of Wavelength's LGBTIQ health education courses for medical students and professionals is launched in 2022, with new learning content, a revised course structure, new resources, new look and feel and more accessibility.
Under the care of the Australian Medical Students Association (AMSA) and AMSA Queer, Wavelength relaunched in Pride Month (June) 2022.
Recently handed over into the care of AMSA and AMSA Queer, Wavelength is launching in June 2022 with a newly revised course, website, and brand.
As Wavelength continues to grow and evolve, we are proud to still be involved and to be able to provide ongoing care, advice and continuity of knowledge.
We supported Wavelength in this launch through:
video editing, transcription and subtitles
accesibility features implemented in their website and course
sourcing new imagery and copywriting
logo redesign
course format redesign (in Go1)
And continue to work with the new team to create a strong future for LGBTIQA+ medical education in Australia.
At the time of writing, Australia's universities don't offer LGBTIQ health education to medical and health students. Specialised CALD and other ways of seeing sexuality and gender are not on the curriculum either. Wavelength, formed by a collective of students, came together to change this by creating their own free, open access health education program, filming local LGBTIQ advocates and students role playing important topics in general practise and medical care.
We had worked with Wavelength for the first time in 2017, creating the pilot of a program to allow medical students to access free training on LGBTIQ health care in the General Practice setting. Our work at that time was creating a launch site and putting online the videos and learning content Wavelength had developed.
From there, Wavelength was able to test the program with university students and associations, and run surveys with student participants to learn more. They also toured the program and ran the online modules in person as teaching tools.
Proving the success and wanting to roll out the program so that a wider national audience of students could use the site all at once, on a faster and more stable platform, Wavelength came to us to find out how they could get there, with no funds available at the outset.
We explored grants and helped in grant applications, and also set off to create a campaign to align with Australia's first giveOUTday in 2019, which helps raise funds for LGBTIQ causes. The campaign was successful in raising funds to create the new website, new visual design, and through a social enterprise partnership with Go1, we started setting up the online course.
Services provided:
Graphic design
Logo design
Web design & development
LMS (course design) on Go1
Strategic support
Fundraising campaign support
"We had a great time working with Lara. The whole process was smooth, professional and very supportive. We had a number of delays in getting out material ready and had to change content several times, and the team was understanding in accommodating all our changes. They touched base frequently and gave us updates on how the website was coming along. After the initial development phase, we were able to pilot the website and run through the whole thing to make sure we were happy with the end product. They ran through the back end of the website and helped us with the design. We really could not have asked for a more supportive service. Needless to say, we are thrilled with the outcome!"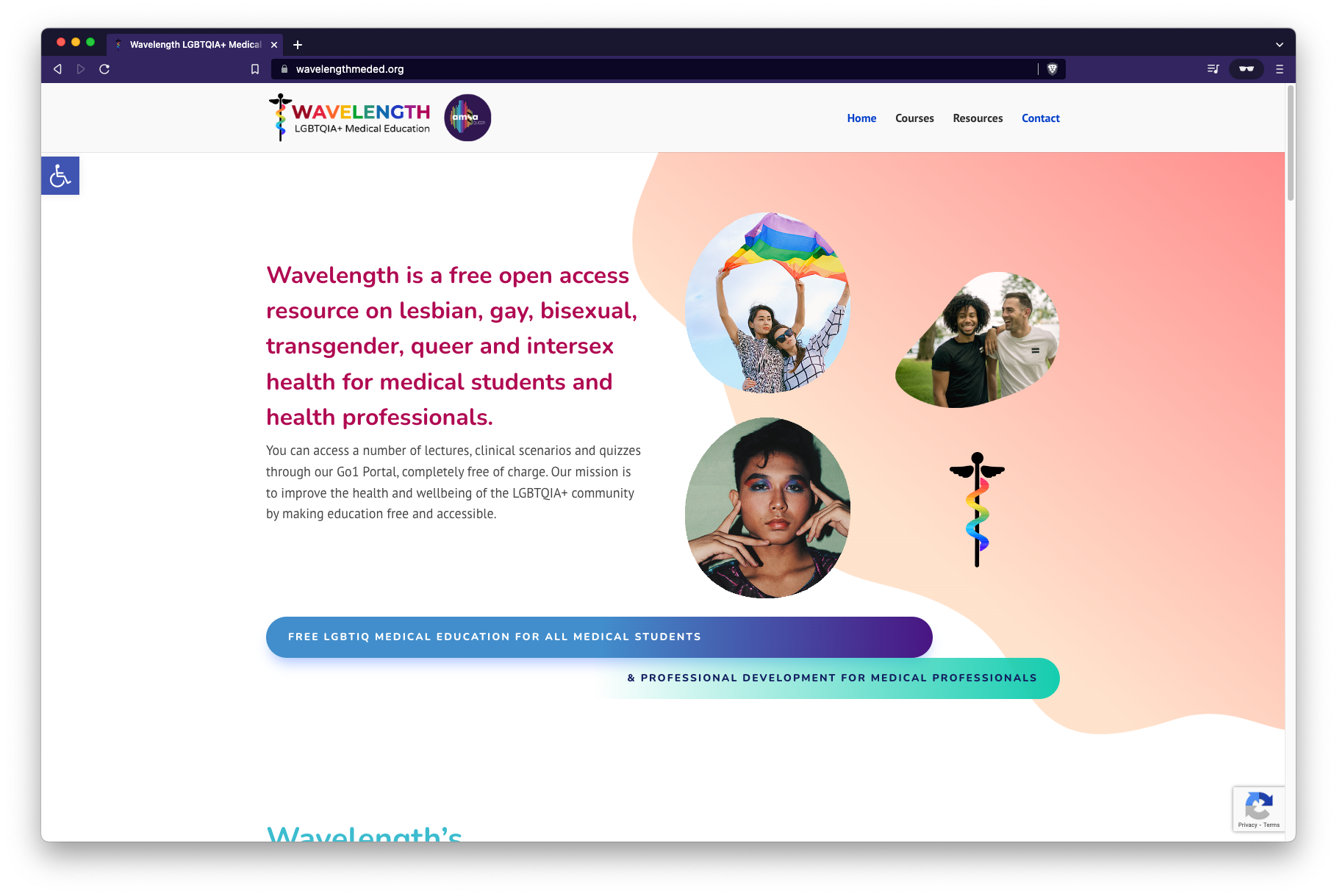 Supporting Wavelength to grow, receive funding, and provide their national-first LGBTIQ medical education digitally
"Social Good Outpost was instrumental in getting Wavelength up and running. Without their support, this project would have easily fizzled out after the initial pilot program. Their professionalism and willingness to go the extra mile has meant medical students across Australia have been able to access Wavelength and learn about LGBTIQ health. The feedback we have received for their work has been fantastic. I could not recommend Social Good Outpost enough!"
Dr Asiel Adan Sanchez
Coordinator, Wavelength