Introducing Social Good Outpost Curates
We've always believed that strategy and design had no limits, and whether our clients needed a new website or logo to communicate their message, or a whole program of public displays and events, we've always been there to help.
This year, we've decided to make that belief formal by splitting the business in two down these lines. If you need anything design, strategy and digital, Social Good Outpost is the place to be.
But, for all the incredible events, festivals and public diplomacy programs we run, we've established Social Good Outpost Curates.  🎉 🎉 🎉
At Curates, we're all about helping folk to launch your big dreams – events, programs, and making impossible dreams possible realities. We help you
Set clear goals and know your next moves
Take action & implement your project
Evaluate your impact and future plan
Our biggest partners in the past have been the Australian Government Department of Foreign Affairs and Trade, but we've also worked all across Australia and the region with organisations. To celebrate the Curates launch, we're also stoked to announce new partnerships for 2020-21!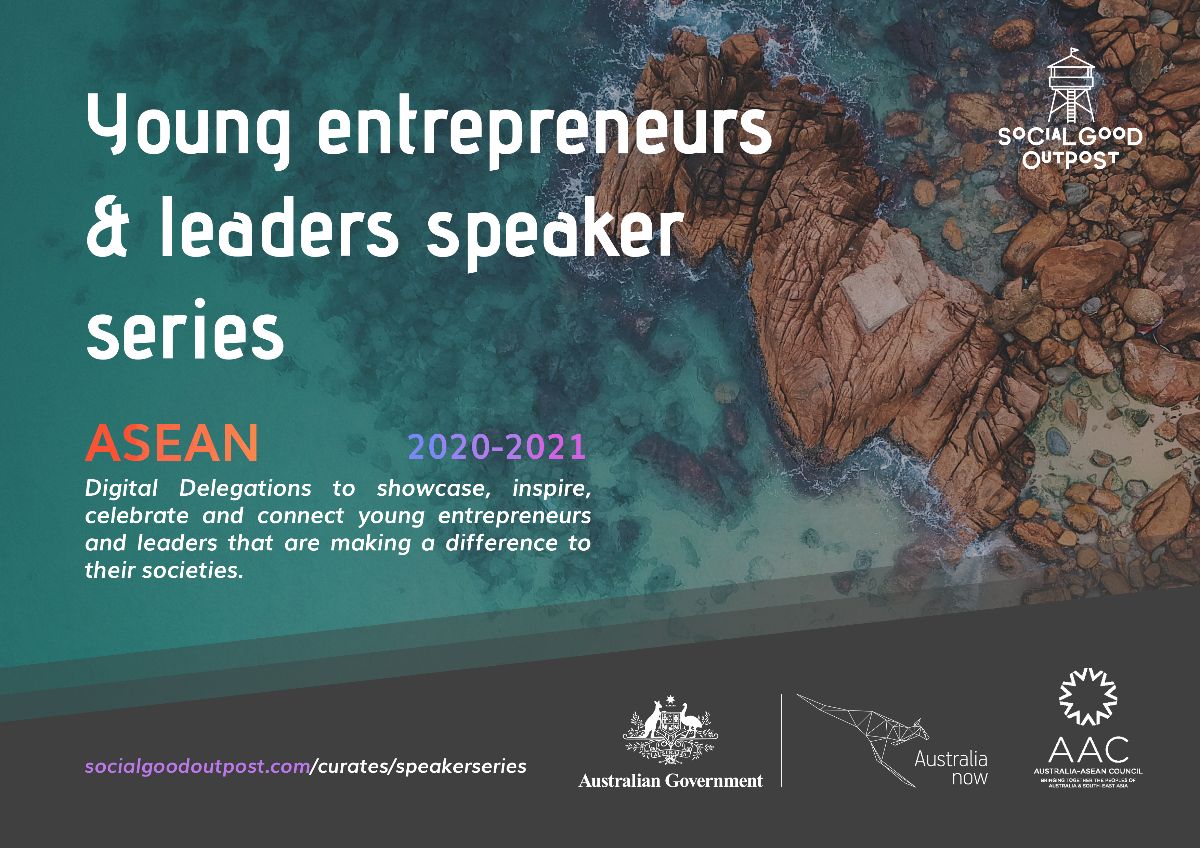 Australian-ASEAN Council
Following the successful delivering of 49 events across ASEAN with over 3000 people in 2019, through the Australian Government's flagship public diplomacy program Australia now, we are heading back to Southeast Asia in 2020-21. Curates' big news this year is that we are excited to announce our partnership with the Australia-ASEAN Council to deliver a series of cutting-edge events on next generation leadership and entrepreneurship within the Southeast Asia.
With support and funding from the Australian Government Department of Foreign Affairs and Trade, in 2020-21 we are hosting a series of five digital delegations that bring young Australian experts and speakers to work with those across the ASEAN region. We will be hosting week-long digital delegations and running workshops, Q&As, forums, keynote speeches and events that gather a broad range of society together to discuss important topics of collaboration, from climate change, COVID-19 recovery and renewal, entrepreneurship and social entrepreneurship, gender equality, tech and more.
Events will kick off later this year, in collaboration with leading changemakers, doers and thinkers in our region. To be part of events, collaborate or get involved, please like the Young Entrepreneurs & Leaders Speaker Series facebook page, follow our website, and reach out for more information.
Australia now
We are also thrilled to announce that we will be continuing our partnership with Australia now to deliver in-person delegations in Malaysia in 2021, as part of Australia's commitment to showcase, celebrate and collaborate with core partners in our region. We will be running two delegations:
Resilience & Recovery: Future-Proofing Societies 
This delegation will focus on rebuilding and resilience in a new era of COVID-19 recovery, particularly with regards to: gender equality, health, human rights, climate change and adaptation, and mental health. It will focus on building future-proof, just and prosperous future societies.
New Horizons: Sustainable & Innovative Entrepreneurship
This delegation will focus on establishing the new horizons for business and the economy in a new era of COVID-19 recovery and adaptation. It will cover sustainability, innovation and adaptation, as well as social entrepreneurship and new technologies.
Follow along at our website for updates and reach out if you are interested in getting involved.