Australia and ASEAN's flagship leadership program for young entrepreneurs in the region, Australia-ASEAN Emerging Leaders Program (A2ELP) for 2022 is now complete. A HUGE congratulations to all 15 A2ELP Alumni!
Our amazing cohort of young social entrepreneurs from across Australia and South East Asia completed the A2ELP program for 2022. The Finale Pitch event was a great success, with 3 judges from the social enterprise and government sectors contributing feedback, support and connections to all 15 particpants.
Professional photography was also on display, with the above collage representing some of the amazing photography that A2ELP sponsored for all participants. Each A2ELP Alumni now walks away from the program with a hand-drawn live scribe drawing of their social enterprise, and professional photography of themselves and their products or services. As well as this, the network of this cohort plus previous A2ELP alumni are strong lifelong connections offered for support and collaboration.
We are so proud of the 2022 Alumni and present their enterprises here so that you can visit, follow and support.
Wipaphan Wongsawang,

 

Thaiconsent, Thailand
Alouny Senduangdeth,

 

2nd Hand World, Laos
Siti Jaafar,

 

Kilang ReRoot, Brunei
Sing-Suen Soon,

 

Sonder Social, Singapore
Zien Lew,

 

Sebiji, Malaysia
Sepriandi,

 

Social Connect, Indonesia
Abbie Williams,

 

Letters of Hope, Australia
Sreypouv Tan,

 

Agro Agape, Cambodia
Yen Trinh Thi Hai,

 

Karuna Vietnam, Vietnam
Kyaw Myat Hein (Nolan),

 

Real Youth Initiate, Myanmar
Taylor Hawkins,

 

Foundations for Tomorrow, Australia
Lester Mendoza,

 

Farm Box, Philippines
Anastasia Pavlovic, Mekar Collective, Australia
Lisa Rapley,

 

Yuludarla Karulbo, Australia
Mathew Townsend,

 

Nature Freedom, Australia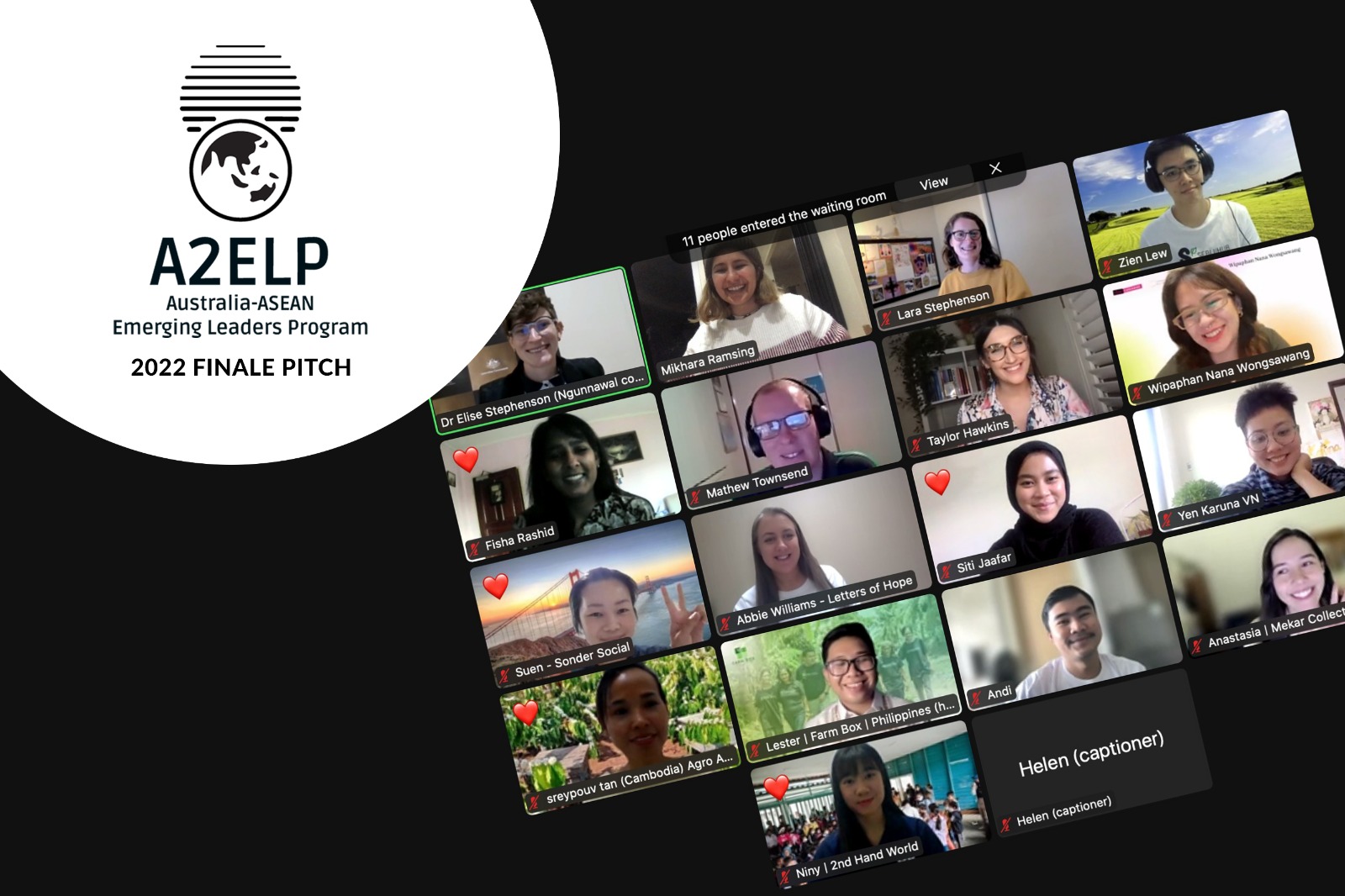 And if you want to be a part of A2ELP in future, either as a participant or a guest speaker, keep an eye out from around September when applications open for A2ELP 2023, by signing up to the mailing list at ausaseanleaders.com.au or following us on Facebook.
Sponsored by the Australian Government's Australia-ASEAN Council,  and run by Social Good Outpost, A2ELP brings together 15 young entrepreneurs from Australia and ASEAN for skills building, collaboration and networking with the region's thought-leaders, social entrepreneurs, and alumni from previous A2ELP programs.
Contact the A2ELP curators and team: team@ausaseanleaders.com.au