Report:
Design Program for Women in Business
Social Good Outpost & Global Sisters
This project between Social Good Outpost and Global Sisters, which was supported by Victorian Women's Trust, aimed to create greater economic stability through supportive design and branding sessions for women entrepreneurs from diverse backgrounds who had barriers to traditional employment.
This pilot program ran from September 2018 to April 2019, and through this report we hope to fund further national support to women entrepreneurs, particularly those from migrant, marginalised or diverse backgrounds.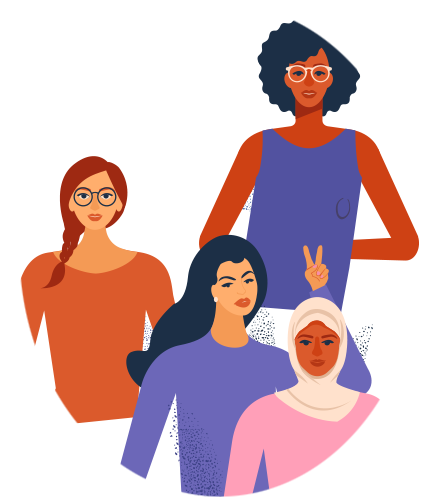 Who, where, when
This program ran from September 2018 to April 2019 and was funded by Victorian Women's Trust. Social Good Outpost partnered directly with Global Sisters to coordinate the women involved, the dates, times and support. Social Good Outpost created and carried out the design workshops and sessions, supported by Global Sisters' organising.
Workshops and Design Sessions were held in Melbourne, including Preston, Carlton, Wyndham and Reservoir. They were held in Regional Victoria in Wangaratta and Wodonga. Some of the 1:1 sessions were carried out over video call.
The women that we helped were in Global Sister's program, and had come through Sister School, which is a business development program.
Why
Global Sisters knew there was a real need for knowledgeable design services and also the provision of women-led design sessions and workshops, to the Sisters. We set out to assist and to show that this program is effective in creating a significant acceleration to the participants' businesses and their financial success – and just as importantly, their thoughts, feelings and confidence around their businesses.
"Women who are excluded from mainstream employment due to their circumstances can access a wide range of employment services to help them find a job. But what about the women who dare to dream about being their own boss and running a business that fits in with their specific situation?"  – Global Sisters
Our goal was to provide specialised design help and hands-on learning and direct assistance in the areas of graphic and web design, branding and social media, to women who are part of the Global Sisters program.
The aim was to help elevate the design professionalism of these women's businesses, allowing them to present their brand effectively. We helped them to align their design with who they are and what they do. And, we were able to support the work of  Global Sisters' programs through advanced, tailored help.
Global Sisters knew there was a real need for knowledgeable design services. Through our women-led, feminist design approach, we were able to provide one-on-one sessions and workshops to the Sisters.
This pilot project was funded by Victorian Women's Trust, created and carried out by Social Good Outpost, and supported and organised by Global Sisters.
In total, we supported over 30 women.
We share their stories below.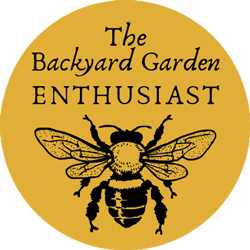 Joanne Diver, The Backyard Garden Enthusiast
The Backyard Garden Enthusiast is a micro seed farm, particularly focusing on Australian native flowers, based in the Hume region of Victoria.
In our one on one sessions we worked on filling in a brand style sheet for The Backyard Garden Enthusiast, with the colours that Jo was currently using, which represented different lines of her seed range.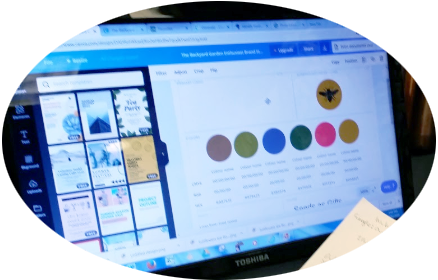 Jo had started a draft of the bee graphic for her logo, by researching different bee images that were copyright-free, and we discussed the direction of her logo together.
When I next saw Jo, she had finalised her logo, and during our second 1:1 session, Jo and I talked about her evolved seed packet branding. At this point Jo had made her logo into a stamp she was able to stamp onto her seed packaging.
We talked about Instagram and how she could show her different seed packets alongside their flowers and plants in the garden, and Jo has continued to have a strong Instagram presence.
Feedback & Successes
Jo has looked into placing her seeds in local florists, as they are now ready for market, visually designed, and in a large enough quantity to stock in a local florist.
Links
Jo grew these glass cob corn, and in our second 1:1 session we worked to make the photograph into an illustrative style that would suit the seed packaging range.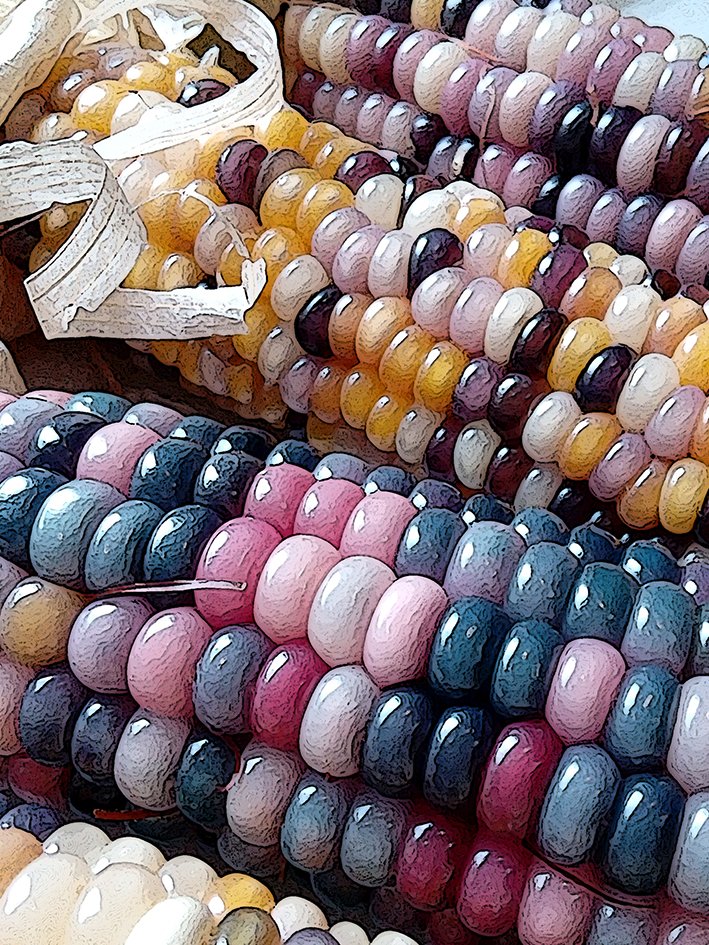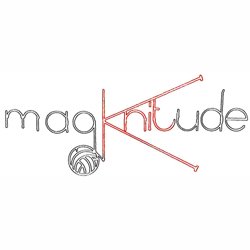 Colleen McCormack, Magknitude
Magknitude is magnificent knitting with attitude. Colleen makes knitted streetwear and long-life stylish wool clothes and accessories and homewares, often custom-made to order.
Colleen's business is purpose-driven to support Australian farmers, including wool producers.
Feedback & Successes
[paraphrased] You get excited all over again, each time you talk about your business and see all the possibilities. Instead of going along like usual, you get to have a chance to look up, and there are possibilities before me that I haven't even seen yet.
Colleen was able to create her own logo, which started during one of our workshops, was built upon as an idea in a 1:1 session, and after our design mentoring finished for this project, she had a fully-formed logo that we helped digitise for use anywhere.
 Links
During our first 1:1 session, Colleen and I talked about her brand values, personality, feedback and direction. Colleen had started sketching a logo in our workshop prior so we took this digitally and made some initial digital logo sketches.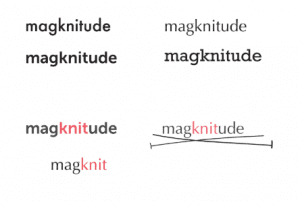 After our session, Colleen created further, and made a hand-drawn logo: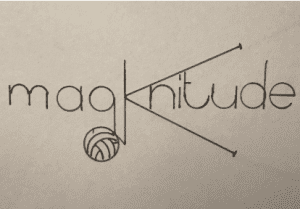 Which she then digitised and prepared for print and online use: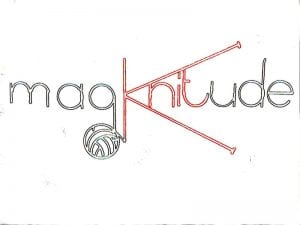 And then in our session 1:1 session, I helped to clean up the scan and recolour so Colleen would have a transparent backed logo to use anywhere.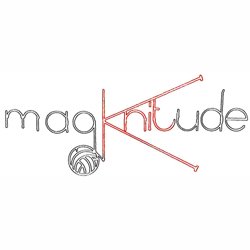 Using Canva, Colleen created a draft of her business card, which I helped her refine in our second 1:1 session.
An early screenshot of the business card is: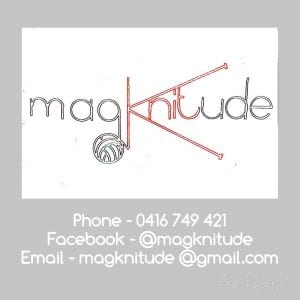 & the final print product: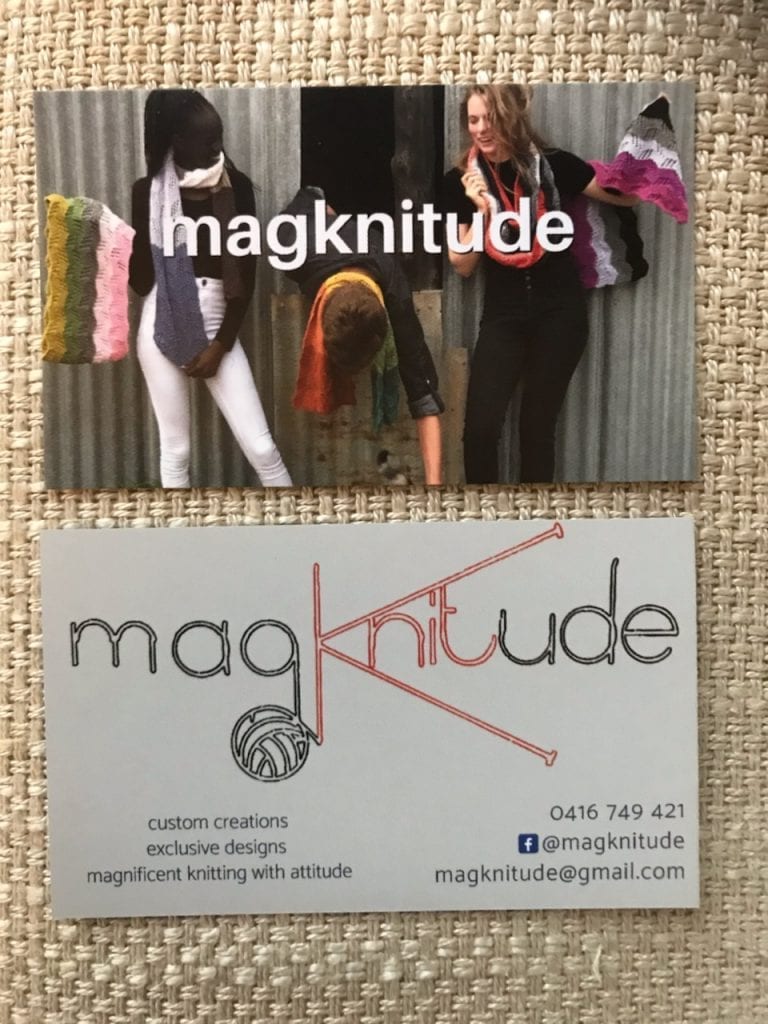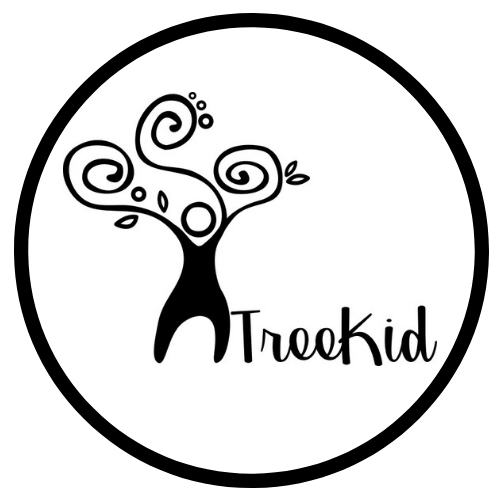 Carla Risco, TreeKid
TreeKid is a clothing line for children, using recycled fabrics, bright colours and beautiful robust design to withstand playing. In Carla's words, Treekid is a Creative🎈Colourful🌈 Kids Clothing brand. Multicoloured Fabrics🌱Natural Dyes🌱Water based Inks🌱Upcycled & Handmade Clothes. Ethical💚Eco-friendly🌏Green💚
Carla was inspired by her son, and using her creative sewing skills to create clothing that was beautiful and reduced cloth waste. In partnership with a photographer friend, Carla was able to get professional photos to help represent her products.
Feedback & Successes
"I'm grateful for the logo because I love it and it communicates what I want."
Since our sessions, Carla has used the logo we created to make clothing labels, and a wood-burning tool for leather patches, as can be seen in the 'clothing labels' tab here.
Links
TreeKid on the Global Sisters site
In our double-length design session together, we went from Carla being "in the brainstorming stage", to saying about her new logo, "I love it and it communicates what I want."
Carla's logo before: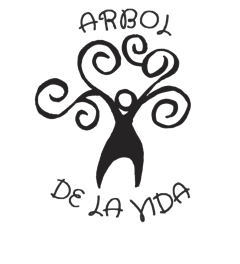 This logo had Carla's previous business name on it, and was a scan of a drawing, which needed to be vectorised to make it larger and smooth the edges.
During our session, we created a new logo together with the new brand name, TreeKid, and redrawing the logo image: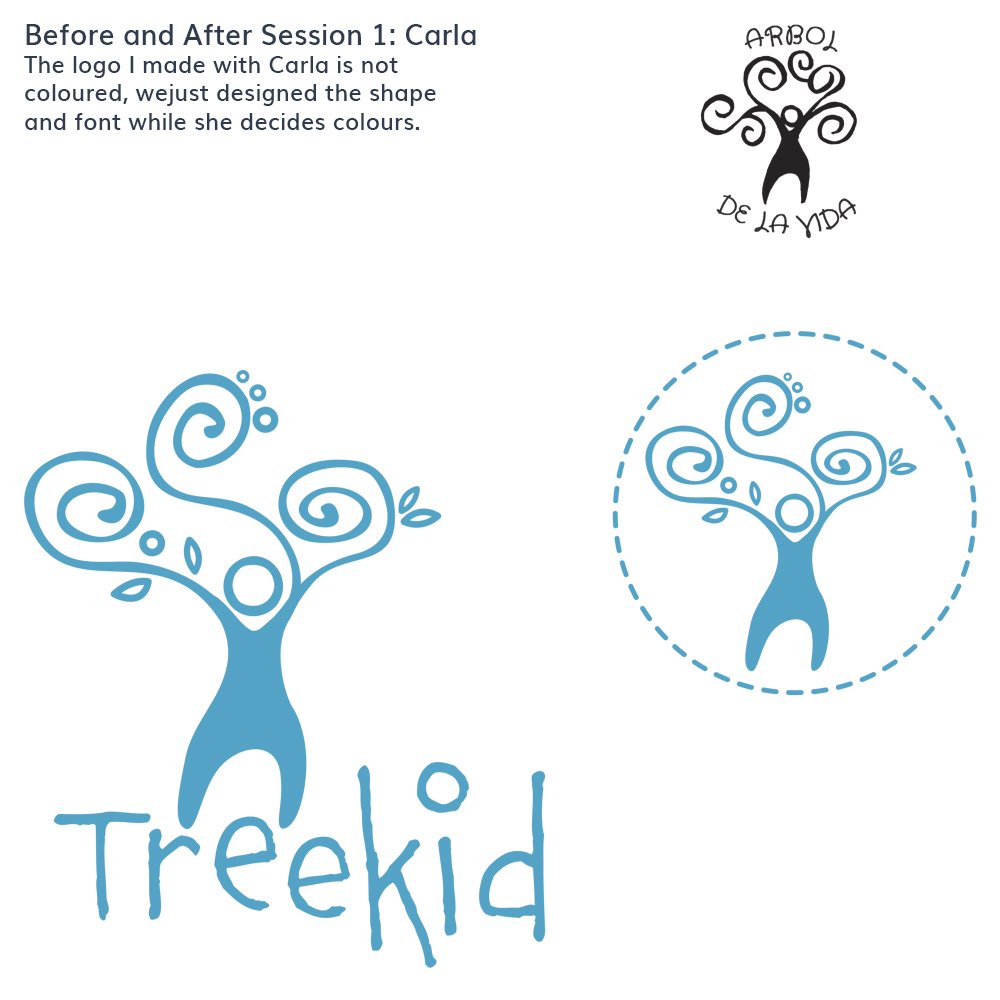 Later on, Carla sent me an update of how she uses her logo: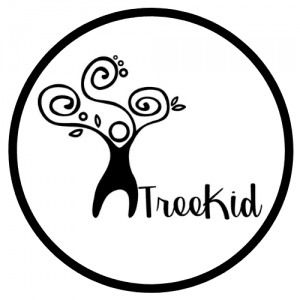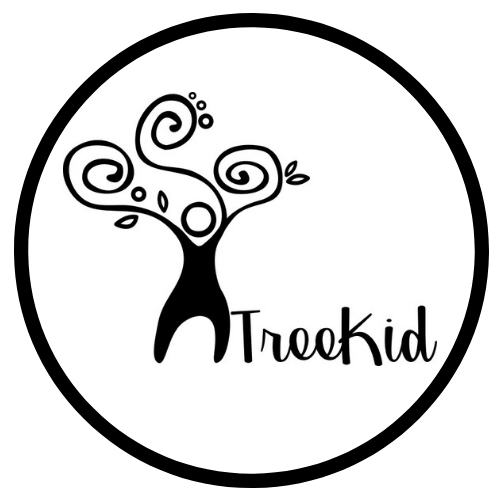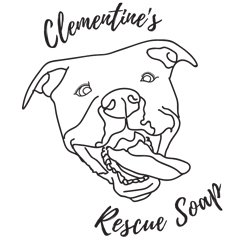 Shannon Barratt, Clementine's Rescue Soap
Clementine's Rescue Soap was inspired by Shannon's rescue dog, Clementine, who needed non-irritating treatment for her skin. So Shannon researched how to make soaps, and created a beautiful soap that can be used by dogs (and humans too).
In Shannon's words, Clementine's Rescue Soap is Natural Cold-Process Soap For Doggos 🐕.  Vegan🌱 No Palm Oil, Cruelty Free, Essential Oils, Made For Sensitive Skin. % of Profits 👉 Staffy Rescue Vic.
Shannon and Clementine focused on Instagram for product testing and community building, and have been able to connect with customers through Instagram for valuable feedback during the business creation process.
Feedback & Successes
"I really appreciate your help, you've really shaped my brand and pushed my business further than I could have imagined…  I feel like my whole business is completed! I can get my packaging, business cards, stickers… the illustration is perfect! I want to get it tattooed! It's a proper business now, branding is so clear now!"
Since creating her business, Shannon was invited to Melbourne's Heide Markets – both the 'dog-themed markets' and the full markets – successfully selling her handmade soaps at both.
Links
Clementine's Rescue Soap on Instagram
During our first 1:1 session, I drew Shannon's logo, based on a photograph she provided of her dog, Clementine.
The image below shows some of the 'before' ideas for her brand, along with the logo image we created.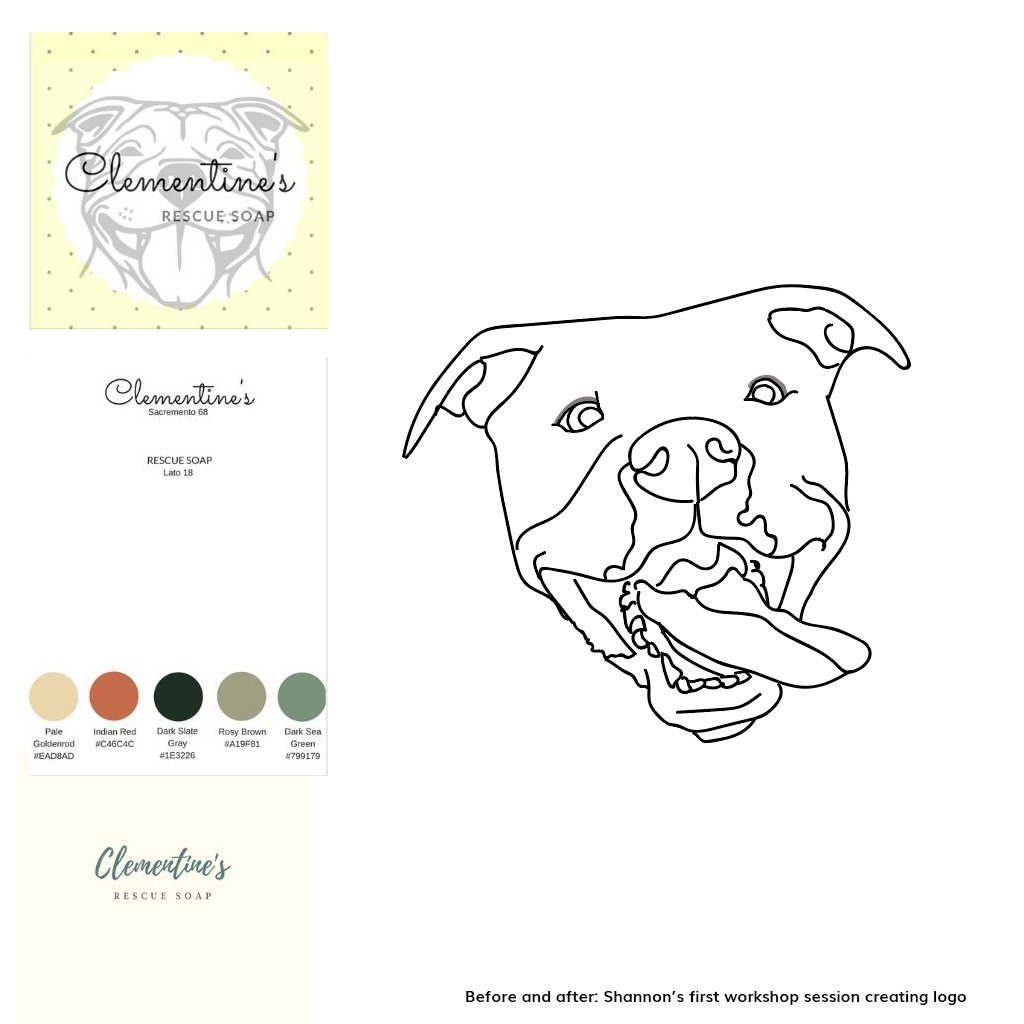 In our second 1:1 design session, I helped Shannon add the curved text of her business name, Clementine's Rescue Soap.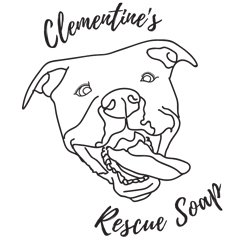 During our sessions together, I was very lucky to receive some of the beautiful orange-scened soaps for my own use. The following is a picture of the packaging Shannon created for the soap, which uses the logo we designed, as a rubber stamp on a calico bag.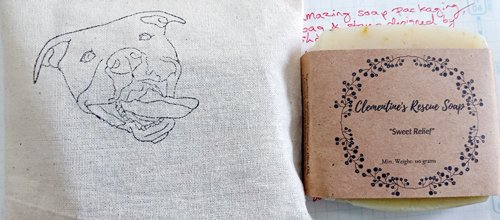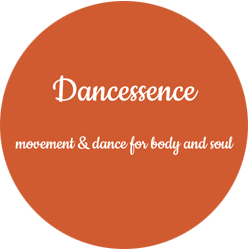 Isabel Jackson, Dancessence
Isabel's business, Dancessence, is a creative movement and dance teaching studio for children and women.
Dancessence offers programs of dance-based movement dance traditions including Oriental style bellydance, classical ballet, contemporary dance and creative movement.
For our work together, Isabel mostly wanted help with her website, including technical setup and creating of a 'coming soon' page while she worked on her website content.
We also talked about strategy for making an engaging and useable website, along with lots of brainstorming questions to work out what to show and tell website visitors.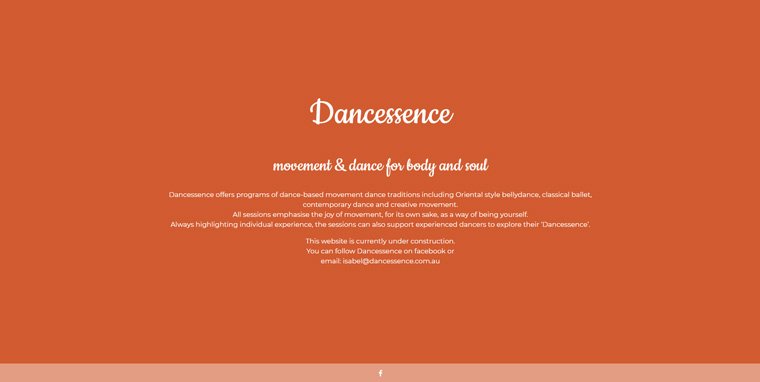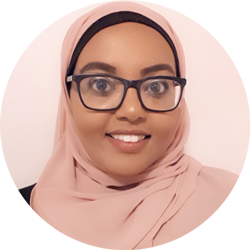 Samira Liban, Girls Group
Samira runs an after school empowerment program for girls in the West of Melbourne. Her program supports girls who often don't get time and space to be themselves, with other girls.
Samira's program allows the girls to learn from each other in a safe space and forget their everyday lives, which are sometimes difficult, inside and outside of school.
At the same time as creating support and knowledge and social abilities,  Samira is supporting the girls to enjoy themselves and feel free. 
Samira's business was unnamed when we did our 1:1, which is why we have called it 'holistic girls club' in the images.
Read more about Samira and her Girls Group in the Banyule 100
Samira's program is a tried and tested success, with support and praise from the co-facilitators, council and the girls who attend. Samira came to the design sessions therefore, wanting some help with picking colours and a style for her logo, even if she wasn't sure on her business name yet.
We did some brainstorming and some creations together in Canva so that she has these resources to use and develop as her business develops.
We created the below image to get a feel for a potential visual style for logo, titles and text.
Something Samira was clear about was that although her program was for girls, it wasn't going to be "girly". We took inspiration from an orange-pink top she was wearing and developed a fun, bright, and semi-nostalgic feeling palette, something safe and welcoming.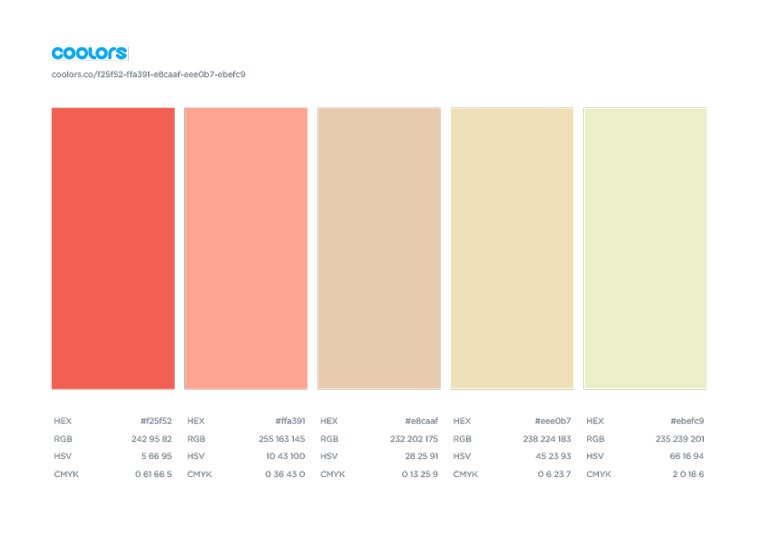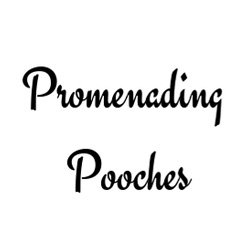 Jane Forrest, Promenading Pooches
Jane's new business is a dog walking service based in the Hume region of Victoria.
During our first workshop, Jane came up with a new business name, so Promenading Pooches was very new when we had our design session together. We created a flyer and a visual identity based on a font and illustrations, just in black and white for printing simplicity.
Our flyer design was: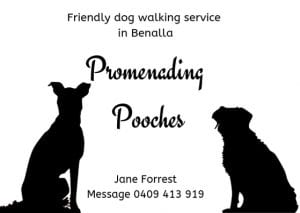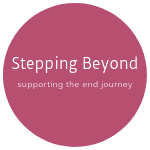 Nicole Stephens, Stepping Beyond & End Stage Productions
Nicole has several enterprises she is part of and which we did design sessions on. Her main business is Stepping Beyond, "Supporting the End Journey", as a death doula. We created an icon for her letterhead and invoices, as well as a brand style sheet.
The second one we worked on was End Stage Productions, a comedy theatre company about death – they're performing successfully, and Nicole wanted a brand look and logo for the identity.
Thirdly, we created a flyer for her AirBnB property, Kookaburra Farm.
As part of one of our regional workshops, we helped the Sisters create brand style sheets. Nicole created one for her business Stepping Beyond, using a photograph of the sky that she uses as part of her brand.
We were then able to choose a colour to create her brand icon in. Nicole had decided that she didn't need a 'logo' further than her written business name that she already had, but wanted something graphic for her invoices and letterheads.
We created this icon: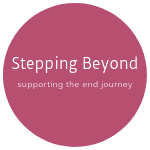 For Nicole's theatre company, End Stage Productions, we worked together to establish a voice, resonant imagery, taglines and lots of puns, both visual and written!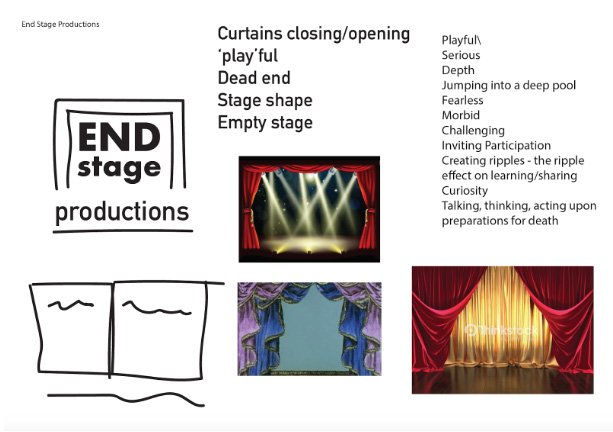 The work we did together is a stepping stone to further getting clear with the visual metaphors and then simplifying this into a logo and look and feel.
For Nicole's AirBnB property, Kookaburra Farm, we created a flyer with her photography and description, that she could circulate in print and digitally.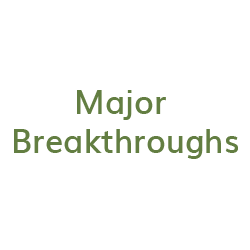 Kylie Bonnor, Major Breakthroughs
Kylie's business, Major Breakthroughs, focuses on the mental health of servicepeople and their partners left at home.
Kylie had already started creating some branding for Major Breakthroughs and wanted advice on the direction it was going, as well as help focusing on the visual feel and messages the brand was sending.
We reviewed her work and looked to inspirations for further development over our design sessions. We picked out what was working, what was resonating with audiences, and activities to further focus the vision and design future marketing materials.
Workshops were part of our strategy to support more women, in a group setting with sharing knowledge and small-group question and answer and one-on-one feedback within the group.
Before the workshops, the Global Sisters Accelerator Leads talked with their mentored Sisters and found out where the workshop attendees were in their business journey, and what design topic questions they had. This informed our workshop topics and activities, and our 5 workshops covered:
Branding Fundamentals (learning about branding, knowing what your brand is, & hands-on social media profile image creation)
Polishing Your Presence (taking started brand visuals and refining them with feedback)
Starting your Website, and
Introduction to Branding (This was a translated session with a small group of women, including hands-on business card creation and social media profile image)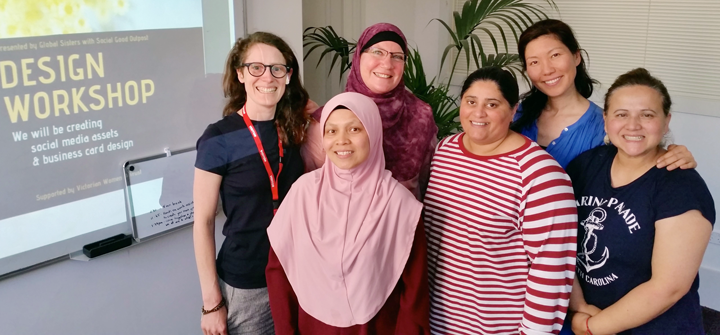 Photograph: Melbourne Workshop #1, November 2018
The workshops helped to boost confidence and give the women free tools and resources to create designs such as social media posts, images to promote their products on their website, profile pictures, logos and brand colours and fonts, without relying on having to pay a designer.
In the beginning, having this ability and freedom can help to form what their brand is, allow for unlimited revisions and rediscoveries of  who their business is, and give a designer, if they hire one, invaluable background understanding to help the design process be as helpful as possible.

National roll-out
We'll take our workshops and one-on-one sessions to Sisters nationally, including regional areas, starting with QLD, NSW, ACT and VIC in 2019-20.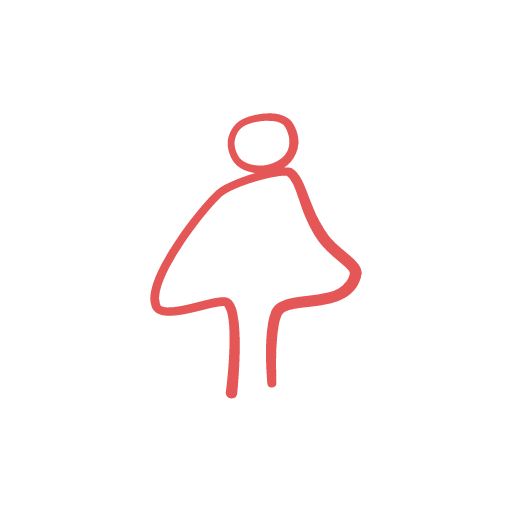 Develop more workshops
We started with branding and design basics. Now, we will continue to develop workshops like website basics and marketing collateral.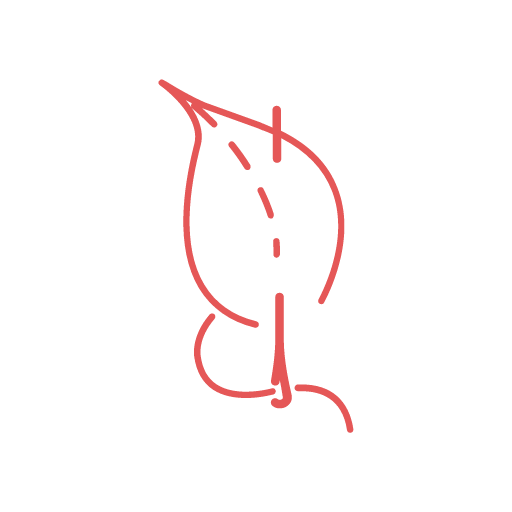 Up-skill businesswomen
Up-skill women who are part of the Global Sisters' program to be able to self-sustain their business' everyday design needs.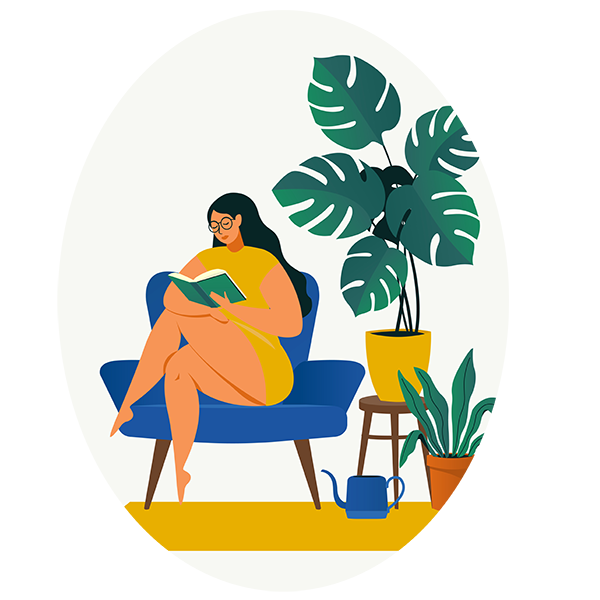 We can do this with your help.
Why support us
Your funding supports women entrepreneurs with diverse barriers to traditional employment to get tailored design and business help and connect with each other in welcoming spaces that allow them to grow their skills, confidence and businesses.
Good design is pivotal to the success of business. It can help fledging businesses look established, thereby increasing building brand trust, credibility and consumer relationships; set businesses apart allowing them to be competitive locally and globally; and increase their profitability, meaning the women entrepreneurs have a more stable financial base.

Contact us to discuss your support
Women-owned small and medium-sizes enterprises across the world are underfunded by an estimated $1.5 trillion. By supporting your project, you are helping to change these statistics, empowering the next generation of business owners and all our communities.
Are you a woman in business who wants support?
Sign up for the next round of workshops and one-on-one sessions and we will let you know as soon as they go live.
These sessions are partially-to-fully funded by our partners, so know that you will be supported in your journey.
If you have questions about how we can help you, or suggestions about the program, please also feel free to email us.
Sign up for design help, or get in touch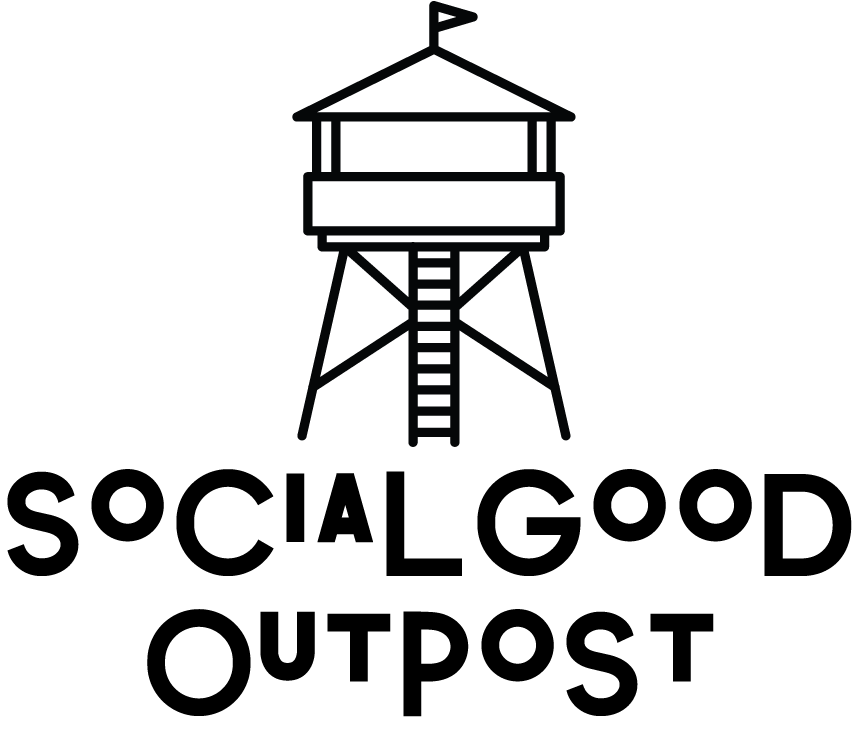 About Us
The Social Good Outpost is a social enterprise creative design agency. Led by feminist principles, our work ranges from graphic design to branding, web design, and sourcing photography and videography for clients. We usually work with women's organisations, government, and small-to-medium businesses.
Our social enterprise model
A percentage of our full-fee design projects goes towards supporting low-cost and pro-bono design to our sponsored community clients.

About Our Partner
Global Sisters is a national non-profit organisation that provides women with the tools, networks and resources to establish or grow a business.