How we transformed a website, created an online course and supported a woman-led start-up to take off for under $1000
An important part of our work is to create practical, usable and supportive solutions for our clients. Another important part of our work is collaborating with women-led start-up businesses that need a bit of help to get going and start offering their services and products. With this in mind, and having been through this journey ourselves, we try to do only as much as is needed to give those clients a real boost and allow them to start getting customers through their work, and also give 1:1 tutorials to help them know how to take over and build on what we started.
This is why I want to share the story of how we transformed an existing wordpress.com website to:
have attractive and consistent design
lead customers to the best ways of interacting with the services
host a paid online course
sign people up to a newsletter
include facebook chat window
allow the business owner to launch her course and service offerings in confidence
know how to build on what we created
This particular story is about Souk Honor Health Nutrition, a functional nutritional therapy business. Souk offers both a self-led online course with a short-term nutrition protocol to address health issues, as well as 1:1 nutritional health consulting.
We started with a website that was handmade by Souk on WordPress.com and needed a bit of support to implement her colours and design across the site. We also found out that people didn't know how to interact with the business and how Souk could help them, so we focused her personal story of healing her auto-immune conditions through nutrition – and some real life powerful stories of her clients.
We also designed a clear and easy way for people to interact with Souk, find out more, and engage on the appropriate level – through chat, taking an online course, enquiring about support, or booking a 1:1 consultation. Previously Souk's 1:1 services had been offered as online purchases but she found that people were not interacting because they were unsure or didn't have trust. So the new process is more conversational and designed for clients to know they are in the right place for their particular health needs.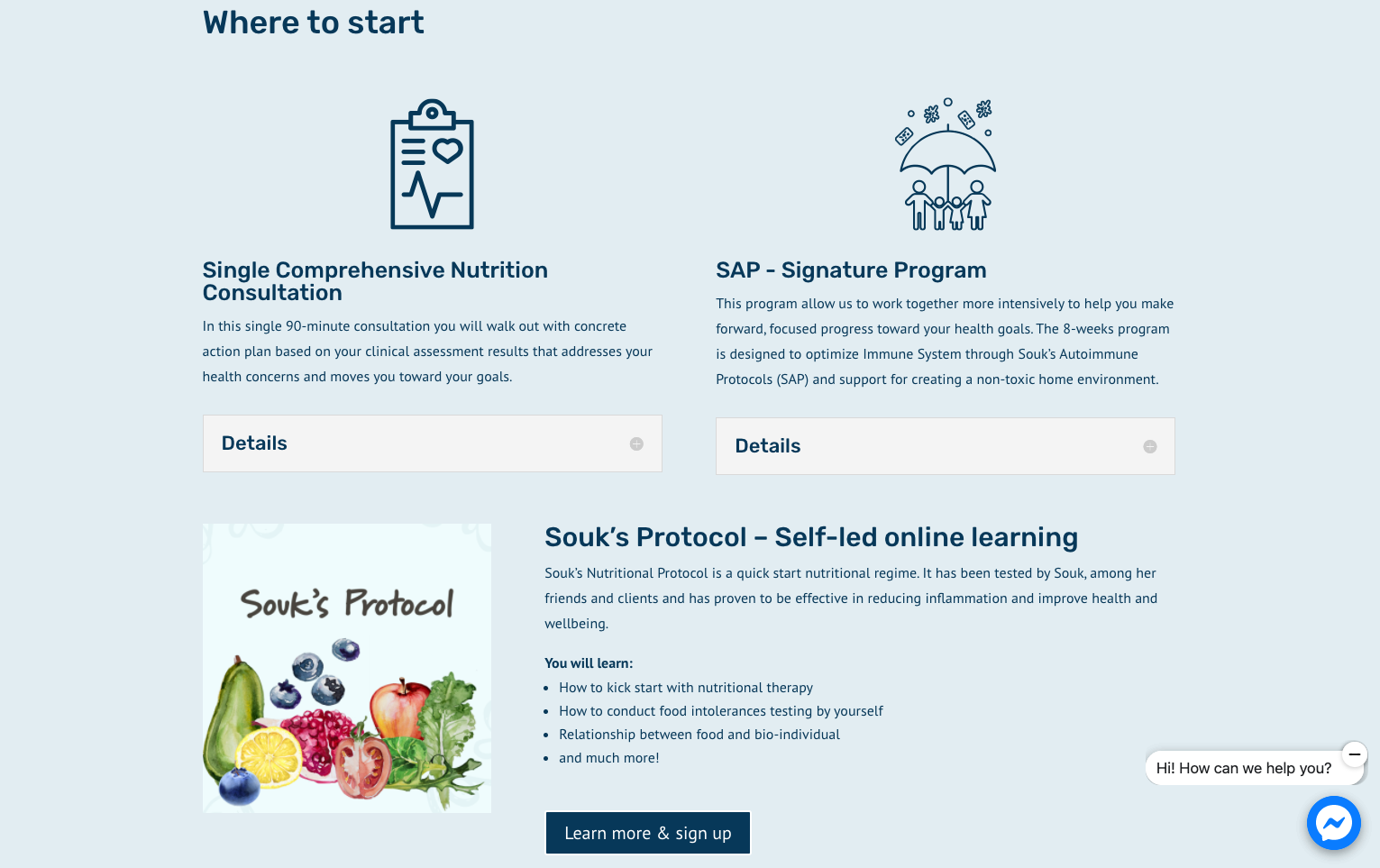 Through working closely with Souk, we were able to implement the chat module, newsletter sign up, new graphics, and flow through the site in a practical way, and show her how to edit this if she needed to. Because we got the customer journey to a helpful structure, further edits are much easier to do later.
Working in a way where we're aware of budget constraints and the needs of women starting their businesses for financial independence, along with our own focus on women-led business and social enterprise, means that we are able to work in this highly efficient way for women-led startups like Souk's.
As well, having clients who are willing to work with us, create content and learn, and know that the creation will always evolve over time means that we can get a usable and income-creating website and online course up and running ready for customers.
This work came to under $1000 through this great equal partnership and through our experience of online course creation, wordpress and practical, evolving design allowing us to work quickly and efficiently – as well as having been there ourselves – and we're really proud of Souk Honor Health Nutrition's work and the project.