Case Study
Working Women's Centre SA
A hub for women to come for support to the WWC South Australia.
Intro
Assisting women needing workplace help, support & advice in South Australia
The Working Women's Centre South Australia provides information and assistance on topics including:
Dismissal, Parental leave, Domestic violence & work, Work injuries, Discrimination, Employment contracts, Wages, Union Membership, Sexual Harassment, Bullying, Redundancy, Rights at work and more.
We helped the Working Women's Centre SA with a brand refresh and redesign at the same time, moving from their old colours of early-web-era purple and green to a more current and muted purple-green combination, and also created a new vector version of their logo so they can use it again for other purposes and sizes.
From here we created a website that puts to the front and centre, a way for women and other people to connect with WWCSA by email, so that they can get a call back for support. The website also holds resources and further information on the DV at work programs and education. 
Details
Creating a website and rebranding for current audiences
Working Women's Centre South Australia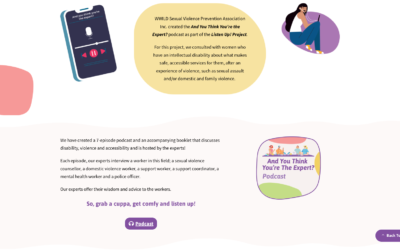 Supporting WWILD to publish their groundbreaking podcast by, and about, women with intellectual learning disabilities. Accompanied by publication design, website, accesibility work and illustrations.Intro Design, illustration and accessibility work to create a brand...