Case Study
Tide Productions
Video production website for Brisbane and Sunshine Coast based studio.
Intro
A videography studio site, case studies of projects, and services for new clients.
Tide Productions is a videography and photography studio based in Brisbane and the Sunshine Coast of Queensland. Lauren Panrucker, the studio's director, is an experienced creative leader who wanted a website that matched her own work in quality. 
In the beginning of our work together, we talked about her decision to ask us to make her site – being digitally fluent Lauren said she could have made a site, but just as she's a video expert and hopes people come to her for the best videography, she wanted to come to a website design expert to show her work in the best way. We were all honoured to have this wonderful working relationship.
The design process went through several iterations of how to best show lots of services (with practical examples) without losing the audience, and also how to best display case studies so that people can see what is possible with videography, see some stills and professional photography from the projects, and also gather more visitors through strategic search engine optimisation.
We helped Tide Productions create a site that carries the waves metaphor throughout, showcases their varied work, and primarily encourages new clients to just reach out and start a conversation.
Details
Creating a showcase and services website for videography and photography studio Tide Productions.
Lara & Elise and Paula Hardie
Business, Women Entrepreneurs, Cultural Services

Tide Productions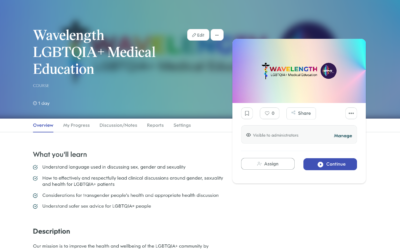 The third evolution of Wavelength's LGBTIQ health education courses for medical students and professionals is launched in 2022, with new learning content, a revised course structure, new resources, new look and feel and more accessibility. Under the care of the...