Case Study
National Council of Women Australia (NCWA)
Intro
A new website to support NCWA's aims for equity and security for all
The National Council of Women Australia represents and supports the national interests of women in Australia. They are a body that takes matters of concern to policymakers, with the aims of improving life and rights of women in Australia (and internationally).
They came to us with the brief to have a hub website that linked out to the states' chapters, and to present a professional and comtemporary face to those who are visiting (often policymakers, government and women's organisations).
We created a site which the NCWA can edit and maintain themselves as they go on, and publish new articles, reports and publications. 
We also helped to extrapolate branding from the new logo and create a style guide for the site including fonts, colours and feel.
Details
Creating a contemporary site to represent Australia's National Council of Women, nationally and abroad
National Council of Women Australia
Women's Rights, International and National Peace Agencies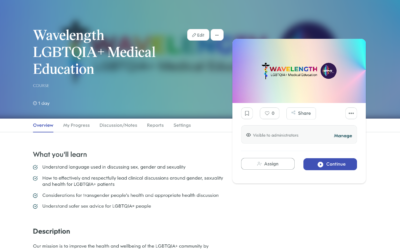 The third evolution of Wavelength's LGBTIQ health education courses for medical students and professionals is launched in 2022, with new learning content, a revised course structure, new resources, new look and feel and more accessibility. Under the care of the...