Case Study
Ethnic LGBT+
Storytelling platform to share the experiences of LGBT+ people who identify as 'ethnic' where they live.
Intro
Creating a place where ethnic LGBT+ people can share stories and support.
As Ethnic LGBT+ founder Mikhara Ramsing says, "stories save lives". Ethnic LGBT+'s website is a place where anyone identifying as 'ethnic and lgbt+' can submit a story of their experiences, and read other stories submitted by community members.
The aims are to provide support and a way for visitors to know that there is hope and help for them, within their cultural identity and often within family traditions.
Mikhara was awarded Young Social Pioneer in 2017 by the Foundation for Young Australians, for her work with Ethnic LGBT+, and we worked closely with her to create her website into a platform she can take on a global tour to collect stories in 2018. Visit Ethnic LGBT+
Details
Creating a storytelling platform to save lives
Praise
I engaged The Social Good Outpost as my logo and website design consultant as soon as I won my first bit of seed funding. I knew investing in my brand design and website capabilities would allow me to make an even bigger impact through online storytelling to the communities I serve – culturally and linguistically diverse LGBTIQA+ communities.
It was even cooler knowing that by being able to pay The Social Good Outpost, that they could then put time aside to help other social enterprises/NFPs on a pro bono or low cost basis, so I was making a positive external benefit in hiring them as my consultants. I was really happy with the work they've produced.
Lara and Elise were easy to communicate with and always accessible when I needed. I appreciated they took the initiative to provide me with various design options and thoughts and deliver in my timeframe too. I am proud to launch my new website under their design. Thank you for your professionalism, expertise and helpful attitude Social Good Outpost!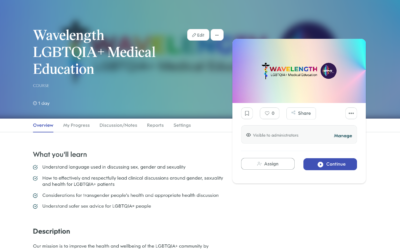 The third evolution of Wavelength's LGBTIQ health education courses for medical students and professionals is launched in 2022, with new learning content, a revised course structure, new resources, new look and feel and more accessibility. Under the care of the...