Case Study
Wavelength
Course website for medical students and health professionals
Intro
Creating a learning website for a student-led LGBTIQ+ medical training course
An initiative of students from Melbourne University and Monash University in Melbourne, Wavelength is a free learning resource for medical students.
The course is designed to take learners through modules consisting of video lectures, written lectures, and short quizzes. Learners can do the course, or parts of the course, with or without registering on the site, making it as open as possible. Wavelength also caters to CALD people and people from cultures who think of gender and sexuality differently to the dominant Australian culture.
We also worked with Wavelength to create a new version of their logo, based upon their existing logo and finding typography to fit with its design.
Our co-design supported their aim of making the course accessible to current and future healthcare professionals so that more of our communities can be looked after in sensitive and knowledgeable ways.
Details
Creating a learning website with written & video content, and quizzes
LBGTIQ+, CALD, Students, Medical
Praise
"We had a great time working with Lara. The whole process was smooth, professional and very supportive. We had a number of delays in getting out material ready and had to change content several times, and the team was understanding in accommodating all our changes. They touched base frequently and gave us updates on how the website was coming along. After the initial development phase, we were able to pilot the website and run through the whole thing to make sure we were happy with the end product. They ran through the back end of the website and helped us with the design. We really could not have asked for a more supportive service. Needless to say, we are thrilled with the outcome!"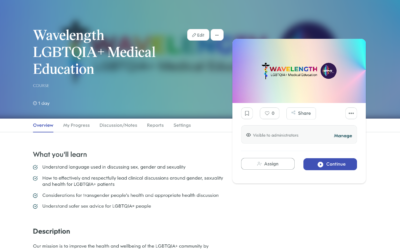 The third evolution of Wavelength's LGBTIQ health education courses for medical students and professionals is launched in 2022, with new learning content, a revised course structure, new resources, new look and feel and more accessibility. Under the care of the...